Posted on
9 February 2020
in
Minister Pekcan: Our contractors are signing serious projects in Pakistan
"This high interest of our companies to Pakistan will continue soon, raising friendly and fraternal relations between our countries to the level of economic partnership," Trade Minister Pekcan said.
A working dinner was held by the Union of Chambers and Commodity Exchanges of Turkey (TOBB) and the Pakistani Embassy in Ankara to discuss trade and investment relations between Turkey and Pakistan.
The program, held at the TOBB Kabul Hall, was organized by Pakistani Prime Minister Imran Khan, Trade Minister Ruhsar Pekcan, Pakistani Foreign Minister Shah Mahmoud Qurayshi, Planning Minister Mahdum Husro Bahtiyar and Pakistan's Prime Minister Special Adviser Zulfikar Abbas Buhari and TOBB President Rifat Hisarcıklıoğlu attended.
Pekcan, in his speech here, turkey and Pakistan, the volume of trade is inadequate for the two friendly and sister countries, stating that they strive to move economic and trade relations to a higher level, he said.
Pekcan stated that there are serious investments in Pakistan from Turkey, "Our companies employ 6,506 people in Pakistan. I believe that our companies' investments in Pakistan will increase further in the coming period and that our bilateral economic relations will deepen with these investments. At this point, this high interest of our companies to Pakistan will continue soon, raising the level of economic partnership between our countries and friendly and sister relations," he said.
Pekcan, Turkish contractors abroad, finished and already ongoing projects, together with so far 123 countries worth $378.9 billion worth of 9 thousand 600 projects, he said:
"Our contractors are also signing serious projects in Pakistan. We have 62 projects in your country, mostly in the energy, infrastructure, construction and consulting sectors. Road projects are leading the way in these large-scale projects. Important tasks are also undertaken in port and irrigation projects."
Recalling that Turkey is one of the founding members of the Asian Infrastructure Investment Bank (AIIB), Pekcan believes that Turkish companies will perform successful work in projects to be carried out in Pakistan using AIIB financing channels he said.
Pekcan, continued:
"Turkish companies are ready to undertake all kinds of superstructure and infrastructure projects to be carried out in Pakistan in the coming period. Our companies will successfully carry out the projects both alone and together with their Pakistani partners as a joint venture. In this way, they will contribute to the economic development of the friendly and sister country Pakistan and the raising of the level of prosperity of its people."
Pekcan thanked the visiting Prime Minister for attending this working dinner despite his busy schedule.
Hisarcıklıoğlu also thanked the Prime Minister of Pakistan for his support in Turkey's fight against the Fetullahist Terrorist Organization (FETÖ).
Hisarcıklıoğlu stated that they are always on Pakistan's side as TOBB, expressing that the volume of trade is not happy despite the close relations between the two countries, "Turkey's total direct investments in Pakistan are $1 billion. Pakistan's direct investments in Turkey are around $600 million. Our contracting companies have carried out important projects in Pakistan as well as all over the world. 59 successfully completed the project. Within the scope of our cooperation, we established the Forum of the Turkish-Pakistan Chamber of Commerce."
Hisarcıklıoğlu, drawing attention to the visa application between the two countries, "Brothers should go to each other's house with permission? Visa application stands as a serious obstacle to trade. At least we need to get the business community out of this visa problem. Support us. Give the Turkish business world here an opportunity. Let's invest more. Let's trade more reciprocal," he said.
Referring to Turkey's successes in exports, Hisarcıklıoğlu concluded:
"In tourism, abroad, we are signing success stories around the world. There are 46 Turkish contractors on the list of the world's 250 Largest International Contractors. With this number, the list is ahead of the United States in the second most. We're next. We are ready to share our experience with our brothers and sisters. In particular, we would like to take a greater share of the infrastructure investments within the Pakistan-China economic corridor as Turkish contractors."
"It is time for Pakistan and Turkey to increase trade volume"
Pakistani Prime Minister Imran Khan, Pakistani Foreign Minister Shah Mahmoud Qurayshi and Planning Minister Mahdum Husro Bahtiyar said that he participated in the program with many ministers, "I brought my team with me because now pakistan and Turkey's trade volume it is time to increase it," he said.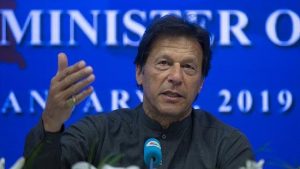 Han stressed that the volume of trade between the two countries could not reach the expected level for a number of reasons, and said that one of these reasons is the distance between Turkey and Pakistan.
Pointing to the length of the distance in terms of the sea, Khan said, "I think this problem will be solved in the coming years because there is a very important development in Pakistan. This is the China Belt Road initiative," he said. In this way, Khan noted that his country aims to create links where there has never been any prior links.
"Pakistan has great potential in many areas, and this potential has not yet been fully used," Khan said, stressing that his country is a virgin area.
There are very important mineral reserves in Pakistan, but so far very little exploration work has been done, Khan said, adding that very little search has been carried out in the areas where oil, natural gas, cobalt and copper are located.
Khan pointed to Pakistan's strategic importance, saying:
"Pakistan is taking an important step by correcting the governance system, providing convenience to businesses, making it easier to do business, reducing the cost of doing business. Therefore, it will be much easier to invest for companies from Turkey. I'd like to assure you that you're not going to be able The main goal of our government is to facilitate the business environment for investors, reduce bureaucracy, facilitate everything. To make people make more money and make a profit, thereby ensuring prosperity in the country."
"Pakistan will build 5 million homes in the next 5 years"
Han emphasized that his country has one of the youngest populations in the world, noting that 120 million Pakistanis are under the age of 35.
"Pakistan will build 5 million homes in the next 5 years. This is a huge project. Therefore, our doors are open to your construction companies. This is a very big initiative for Pakistan."
Han said that they have created special economic zones with China in the context of the Belt Road initiative, and that Pakistan is among the countries with the most diverse countries in the world in the field of tourism. Khan underlined that his country is also the center for religious tourism.
"The people of Pakistan raised money to support the War of Independence"
In his speech, Khan noted the importance of historical ties between Turkey and Pakistan, "While Turkey is fighting for independence, people in the region, which was India at the time, now Pakistan, will be able to fight turkey's War of Independence under the leadership of Mustafa Kemal Ataturk. they were raising money to be supportive," he said.
Related posts